Jan 17, 2019 03:54 PM Central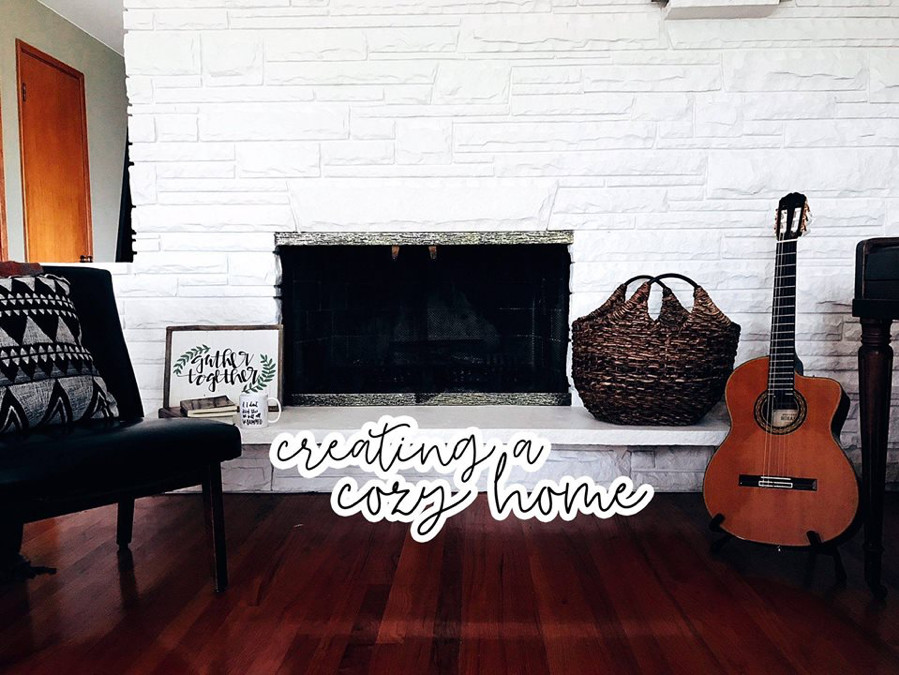 Friends, get into your coziest pants, make something warm to drink!

I hope you'll feel inspired to snuggle up, relax, and get the most out of this blog as it is all about creating a cozy environment wherever you call home

~ I'm writing this in front of my fireplace on this cold January day!
One of the keys to creating a cozy environment is creating small spaces for people to gather. Little sitting nooks and chairs drawn together. Open concept living is all the rage, but even in expansive rooms, having small areas for intimate gatherings is key to a warm and inviting environment. Cluster pieces of furniture together to create areas for conversation and connection. Have warm accents around your little nooks - pillows and throws, soft lighting, your favorite books, a leafy plant (I won't tell if it's fake). Things that aren't cluttery, but make you feel surrounded by personality and warmth.
Studies have shown that we process our memories and emotions through our limbic system, which is tied to our olfactory nerve. That means our sense of smell can have a major impact on how we think and feel. When we want to create the most inviting space possible that starts with scent! As soon as someone walks in the door, I want them to feel at home.
But have you ever wondered about all the scents we come into contact with? Sometimes, we don't even know we are smelling something that is harmful to our bodies. I can't even tell you how many candles I've purchased over the years. Especially in the fall and winter! I was obsessed with finding the perfect one to fill up every corner of my household with the smell of baked goods.
Then I learned that candles are terrible for us ~ in fact, fragrance is now considered the new second-hand smoke! More than 95 percent of the chemicals in synthetic fragrances are derived from petrochemicals. These chemicals and a lot of other known toxins are capable of causing cancer, birth defects, nervous-system disorders and allergies—some of which are cited on the EPA's hazardous waste list. The Environmental Working Group (
EWG
) researchers found more than 75 percent of products listing the ingredient "fragrance" contained phthalates (THAL-ates) which have been shown to disrupt hormone activity, reduce sperm counts, cause reproductive malformation, have been linked to liver and breast cancer, diabetes, and obesity. Additionally, studies by
Dr. Philip J. Landrigan
of the
Mount Sinai Children's Environmental Health Center
, link fetal exposure with autism, ADHD, and neurological disorders.
After researching and looking into this, I wanted to replace those candles and I found out that diffusing actually benefits us. That's a pretty awesome alternative! Check out my FREE class below to find out my favourite Fireside Diffuser recipe - but also other recipes you can use to switch out those toxic products and create a healthy, cozy home.
PSST ... a little secret ... a couple of my other favourite recipes included is the Peppermint Hot Chocolate and a heavenly Bath Soak recipe!
Jan 9, 2019 10:40 AM Central
I recently had a craving for Lemon Loaf so went to check out my old recipes and came across this one I had received from a friend a long time ago. Instead of using the lemon extract originally called for in this recipe, I added Young Living's Lemon Vitality essential oil to the recipe.
When I am cooking, if I can substitute a chemical ingredient with one which is 100% plant based and organic I will do so. Also, Lemon Vitality essential oil adds a bright, dynamic flavor to many dishes and its versatility in sweet and savory recipes is what makes this fruit a popular item in kitchens around the world. Use it to add flavor to savory foods like fish and chicken or sweet foods like pastries and cakes.
Lemon Vitality oil has a bright taste you'll want to keep on hand for almost anything you whip up. Instead of zesting or juicing, use Lemon Vitality for a convenient way to use this great flavor. Depending on what you're making, make sure you start small with a single drop of oil.
I know you're going to want the recipe for the Lemon Loaf Cake - so here it is!
Lemon Vitality Loaf Cake
Cake Ingredients:
1 1/2 cups all-purpose flour
2 teaspoons baking powder
1/2 teaspoons kosher salt
1 cup plain whole-milk yogurt or sour cream
1 1/3 cups sugar, divided
3 eggs
10 drops Young Living Lemon Vitality Essential Oil (start with 8 drops and adjust to your taste)
1/2 teaspoons pure vanilla extract
1/2 cup vegetable oil
1/3 cup freshly squeezed lemon juice
Glaze Ingredients:
1 cup powdered sugar
2 tablespoons freshly squeezed lemon juice
1-3 drops Lemon Vitality Oil (optional - depending on your taste - remember a little goes a long way!)
Directions:
Preheat the oven to 350 degrees F. Grease an 8 1/2 x 4 1/4 x 2 1/2-inch loaf pan. Line the bottom with parchment paper and butter and flour the entire pan.
Sift the flour, baking powder, and salt together into a medium bowl. In a large bowl, whisk together yogurt, 1 cup of the sugar, eggs, lemon vitality oil, and vanilla. Slowly add the dry ingredients into the wet, whisking to combine. Use a rubber spatula to fold the vegetable oil into the batter until it's fully incorporated. Pour into the prepared pan and bake for about 50 minutes, or until a cake tester stuck in the center of the loaf comes out clean.
While the cake is baking, combine the 1/3 cup lemon juice and remaining 1/3 cup sugar in a small saucepan over medium heat and cook until the sugar dissolves and the mixture is clear. Set aside.
When the cake is done, allow it to cool in the pan for 10 minutes before removing it and placing it on a baking rack over a sheet pan. Use a cake tester, wooden skewer, or toothpick to carefully pierce holes throughout the cake (I used a skewer so that I could have various depths of holes in the cake to allow more syrup to get through - don't worry they're not noticeable when you're done!). While the cake is still warm, pour the lemon-sugar mixture over the cake and allow it to soak in. Cool completely.
In a small bowl, combine the powdered sugar, lemon juice, and lemon vitality oil (if using) whisking to form a smooth glaze. Pour over the cake. Slice and serve with fresh berries, whipped cream, or ice cream.
Happy baking - enjoy!